Practice Areas:
Family Law; Divorce; Custody; Alimony; Premarital Agreements; Postnuptial Agreements; Guardianships; Visitation Rights; Separation Agreements; Estate Planning; Probate Law; Contested Wills Litigation; Grandparents Visitation Rights
---
Member:
Montgomery County, Prince George's County, Maryland State and The District of Columbia Bar Associations, the Maryland Woman's Bar Association and the Montgomery County Chapter of the Woman's Bar Association of Maryland.
---
Biography:
For the last 30+ years Jo Benson Fogel's primary focus has been on court-related matters involving families and individuals in the Maryland courts.  Ms. Fogel's clients are primarily Montgomery and Prince George's County citizens of all ages involved in divorce, guardianship, custody, property distribution, estate planning and will litigation and administration matters.
Ms. Fogel is also active in the Maryland State Bar Association, where her activities have involved presentations in continuing education classes related to family law issues, law practice management, and alternate dispute resolution.  Ms. Fogel has an AV rating with Martindale Hubbell, she is listed in the Martindale Hubbell Bar Register of Preeminent Lawyers for Maryland, she has been designated a Maryland Super Lawyer, and is named in Best Lawyers in America.
Ms. Fogel has been part of the Family Law faculty of the Judicial Institute since 1995. She served on the Committee that oversaw the implementation of Md. Rule 6.1 regarding Pro Bono services and the lawyers of Maryland.  In 1999 the Montgomery County Bar Foundation recognized Ms. Fogel for her Extraordinary Commitment to Delivery of Legal Services, and she was honored by the Bar Foundation of Montgomery County as a Life Member and Bar Leader.  Ms. Fogel serves on the faculty for the Maryland State Lawyer Professionalism Course for new lawyers.  She is a Trustee-Director of the Maryland State Bar Insurance Trust and she is a Bencher in the Montgomery Inns of Court.  She has served on the Section Council for the MSBA Elder Law and Disability Rights Committee, and the Law Practice Management Committee, and as Chair of various state and local bar family law related committees.
Also active in her community, Ms. Fogel served on the Board of Advisors for the Bowen Family Center, and served as Director of  Community Ministries/Interfaith Works Montgomery County.
Ms. Fogel earned a BA from Duke University and is a graduate of the George Washington University Law School.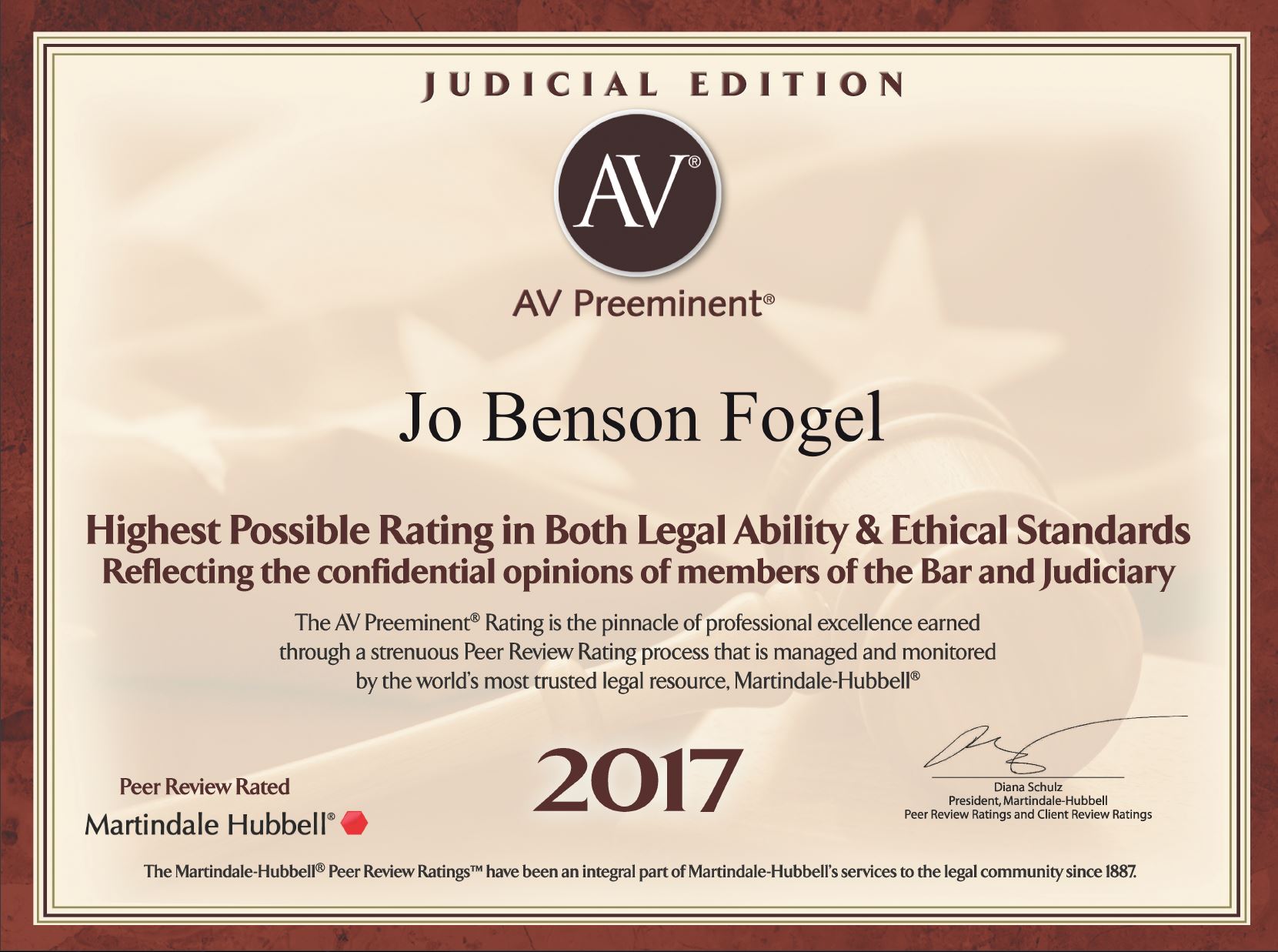 | | |
| --- | --- |
| |   |
Hill v. Hill, 558 A.2d 1231, 79 Md. App. 708 (1989);
Bell v. Forti, 584 A.2d 77, 85 Md. App. 345 (1991);
Lebac v. Lebac, 109 Md.App. 396, 675 A.2d 131 (1996);
Giffin v. Crane, 351 Md. 133, 716 A.2d (1998);
Langston v. Langston, 366 Md. 490, 784 A.2d 1086 (2001);
Trembow v. Schonfeld 393 Md. 327, 901 A.2d 825 (2006).